He is at the moment Scandinavia's best male player and has single-handedly created a huge tennis boom in his country.
Tennismagasinet (a Swedish tennis magazine) travelled to the Norwegian capital for an exclusive interview with Casper Ruud – enjoy!
This interview was published in the latest edition of Tennismagasinet.
Translated by Erik Jonsson
Njård Tennisklubb is just a stone's throw from Holmenkollen and the tourist friendly ski jumping hill Holmenkollbakken.
The standard is, to put it mildly, a few steps below from what we are used to in Sweden. Of course, four indoor courts and three clay courts is not bad but the facility could do with some renovating.
Here, on one of the clay courts, while fall is coming to Oslo, would one of the top male prospects play Georgia in the Davis Cup rubber with his Norwegian team-mates. Charming, in a sense.
We met with Casper Ruud two days before the upcoming Davis Cup rubber and the Norwegian had just finished a clay court training session with Viktor Durasovic, today ranked world 314.
Even though my first question was not about Njård Tennisklubb and its rugged front the conversation quickly went there regardless.
– We don't have a big and nice facility here in Norway like you do in Sweden with SALK and Kungliga Tennishallen. Nice arenas with restaurants. That culture doesn't exist yet in Norway.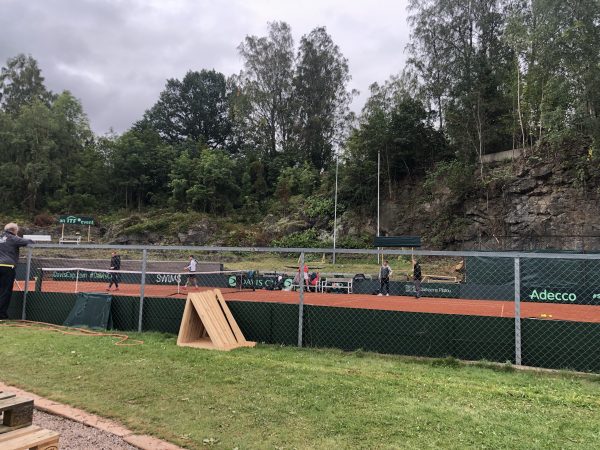 He continues:
– This is the only club I know of in Oslo that has a tennis court and restaurant in the same building. Pretty sad actually that more arenas don't have that, but the culture is not there just yet.
With good results in the last few years, Casper has become a solid player on the ATP Tour and he is now just a few spots from making the top 50. An achievement which has lead to a huge tennis boom in our neighbouring country. How does Casper himself view it?
– Tennis in Norway has been on the way down after my father (Christian Ruud, editor's note) retired from tennis. It's on the way up a little more now and it seems like more and more are playing tennis on the summers. It only gives me pleasure than I can inspire people and young players especially.
Do people recognize you on the street?
– Well, I get a few "good luck" and "well done". More so lately, definitely, and especially after the match against Federer at the French Open. After that you could say it exploded.
Casper Ruud is today a walking advertisement pillar and unsurprisingly so. The sport's interest in Norway appears to know no limits and Casper does not shy away from appearing in media and other contexts.
After a quick peak on Casper's official website, Casper-Ruud.com, under the tab "Sponsors", we find as many as seven collaborations.
Does he know them all?
– Let me see…
Casper glances down at his training shirt.
– Arctic is my main sponsor. Proaktiv has been with me for many years. Yonex is with me. Right to Play is more of a charity organization. Autopay is a parking service and I also have a deal with Porsche Center here in Oslo.
Norway's Davis Cup captain Anders Haseth, who sits with us at the same table, suddenly takes out a parking ticket from his pocket and mumbles something about Casper's aforementioned sponsor.
– What else do I have? Isklar, of course.
Christian Ruud, Casper's father and former player (career high of #39) shouts from the other end of the table.
– Yonex!
– I've already said Yonex, Casper counters quickly.
Everything from parking services to sparkling water – it is safe to say that Casper is a hot target for sponsors in Norway.
How important is the sponsor part for you? Do you have to give something back to them or are your sponsors just happy to be seen?
– My main sponsor Arctic has a lot of international customers in their company and if I play a tournament somewhere on tour I might give a few tickets to their customers. Isklar, the sponsor I have on my cap, usually wants me to play a little with their customers.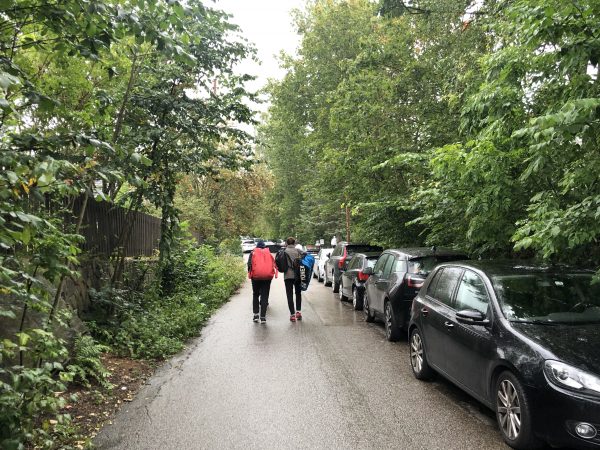 Ruud continues.
– There's not a lot I need to do.
You're today ranked 60 in the world. Do you have a ranking goal you would like to achieve in your career?
– All tennis players who have been top 100 or top 50 probably want to be world number one eventually. That should at least be the ultimate dream. I dream of reaching that one day and I fully believe that it is possible.
– We're many young players on the way up right now of the Next Gen generation and it's likely to become more open when the big three retire. Tsitsipas, Shapovalov, Auger-Aliassime and me who's seventh on the list to Milano right now, there are a lot of us younger players doing well and will continue to do so the next five or ten years.
The Swedish Davis Cup player, and close friend with Casper Ruud, Jonathan Mridha was interviewed by Norwegian NRK.
Mridha did not hold back and said the Norwegian's forehand was heavier than Monfils', Dimitrov's and Fognini's, players Mridha has trained with before.
– That's nice to hear and I know the forehand is my best shot and I try to use it as much as possible in matches. A heavy top-spin forehand on clay bounces up and I have a big advantage there of course, as I mostly play on the surface and that shot is my main weapon. The players Mridha mention perhaps play a different style of tennis than I do, but Fognini for example has a decent forehand after all. Nice to hear that my forehand is heavier than Fabio's, haha.
We are staying on the same topic. What is the Norwegian's relationship like to our Swedish players? And which of the Swedes understand Norwegian the worst?
– I'm good friends with Jonathan Mridha. He's been in Oslo a bit and he's had his former girlfriend here while I've also had my training base here in the city. I know Fred Simonsson pretty well and Mikael Ymer. I haven't seen Filip Malbasic in a while. I see Mikael around a lot at tournaments, and Elias too.
– We have a good relationship with each other and practice when we can and hang out a bit between matches. It's fun to spend time with the Swedes when you can. I hope it's going to become more of that throughout the years with the Ymer brothers on the way up in the rankings and hopefully Jonathan too.
Who of the Swedes understand the least Norwegian?
– Mikael and Elias are pretty hard to talk to. Jonathan had a Norwegian girlfriend before.
Do you speak English with the brothers?
– No, haha. I speak a little more Swedish and use some Swedish phrases that I know. That's simpler than for them to try to understand Norwegian…
You're speaking of the brothers' success. Would you say that it is an extra incentive for you to continue make good results now that Mikael is rapidly closing in on top 100?
– It's going to be exciting to see if he manages to get there before the end of the year. He's working very hard, I know that, and he's had some bad luck with injuries previous years and stuff like that. He's a nice guy and a clever player we're going to see a lot of in the future. I really hope both Mikael and Elias can take the step up to top 100. Everything becomes easier when you get into all Grand Slam tournaments directly. Will Mikael make it before the end of the year? Well, then we'll see each other in Australia!
In an interview with Tennis-Norge.com, Ruud spoke about Norway being a better tennis nation than Sweden. He holds firm with that statement, and says that there's prestige in being the best ranked male tennis player in Scandinavia.
– Of course there's some prestige in that. We're a few who are coming up now. There's Emil Ruusuvuori who's up and coming. Elias and I played each other earlier this year in the Phoenix Challenger and of course we were both tense ahead of the match and the Scandinavian derby.
– It feels good to be the best in Scandinavia with the ranking and all that. I'm not going to sit here and say it doesn't feel good, but at the same time it's going to be nicer to be the best in Scandinavia in ten years than it is right now. So we're just going to have to wait ten years and see who's the top ranked player…
In August 2018, Casper moved to Mallorca and Rafel Nadal's academy. At that time he was ranked 143 in the world and was widely considered one of the most promising players of his generation. Since then, Ruud has improved even more, both with the quality of his tennis and shooting up the rankings.
– You practice a little differently there. The intensity is extremely high, Casper says and continues.
– It's not traditional Spanish exercises which you might believe with "2-1", two cross and one down the line, but it's more six-seven shots in the middle of the court with a really high intensity and then "boom", a point-ending shot. That's what it usually looks like when I practice with "Rafa".
– I was there and practiced during pre-season ahead of 2019 and came back home exhausted. Lots of stuff in my game have gotten better and the intensity compared to a year ago has improved significantly.
Did you choose the academy to improve and adapt your game more to Nadal's style or do they work completely with you and your strengths and weaknesses?
–I don't know if I want to play like Nadal as it looks extremely toilsome on your body. If I could choose I'd probably like to play like Federer but that's no easy task. You take some things from players you think look good and try for yourself. It's about mixing it up a little.
– If I'm going to answer your question I'd say that Nadal's intensity is something I've tried to copy. Like I said before, there aren't longer rallies than 6-7 shots when I practice with him, the points finish pretty quickly and that makes the intensity even more important. That's what I've tried to copy, the intensity.
Do you stay in contact when you're not at the academy practicing together?
– Yeah, some. You see him at tournaments and he often texts me to congratulate me when I do well. I do the same of course. I want to believe that he wants his academy players to do well and that makes the academy look good. But he's engaged, absolutely. I can tell a story from January earlier this year when Nadal had lost the Australian Open final.
– He flew home directly after the final. The same morning "Rafa" landed I was practicing at the academy with Toni Nadal and he came to the court and said: "You have to this and that, you have to play with more spin".
The interview suddenly gets interrupted because of what seems to be a class trip with some overly excited young people who have just seen the Norwegian super star at the Njård Tennisklubb's only restaurant.
A couple of pictures later and we are back.
I read in an interview with Dagens Industri that you got starstruck by Roger Federer ahead of your match at the French Open this year. Tell us more!
– Both with Federer and Nadal it's special. You've seen these players on TV when you were younger throughout the years and ahead of our match at the French Open I'd never before had any kind of relation to Federer. Neither practiced nor talked. It was the first time for everything so to speak.
– "Wow, there's Federer". You got a little unsettled. I was supposed to have practiced with him before and now instead it happened for the first time in a match. It was special.
What do you think the key is to establish yourself in the top 30?
– Develop a better serve. The serve is as we all know the most important shot in tennis and with a really good serve you get even more free points. If I could start next season in the top 50 it would perhaps be easier to come through and potentially make top 30 after that. The challenge, however, will be to stay there for several years and it's important to be patient, as you say in Sweden. It will have to come gradually. This year I've grown and I think it's important that the development continues upwards gradually.
– It can be tough like it's been for, say, Shapovalov for example. Okay, he's been highly ranked and after Montreal 2017 everyone thought it would continue but he's gone backwards a little bit since then. I'm not saying it's bad, it's normal if you take the quick route up and I think it's easy, if you break through that quickly, that you can fall just as quckly than if you were to develop gradually.
Ruud is today ranked fifth of all male players under 21. Who does he think will compete for Slam titles when Djokovic, Nadal and Federer no longer are on tour?
– Tsitsipas is a very good player, but ever since I grew up playing with and against him I think I can find it easier to spot some weaknesses in his game than others may. Don't get me wrong, he's an amazing player, but I don't think he had the summer he or his fans were hoping for.
– Same thing with Felix Auger-Aliassime. I think he has an extremely high top level, but some days his bottom level can maybe drop a little. I played him last year and that's what it felt like. He didn't have his best day, but when he's on, he's straight fire!
Do you hang out with any of these players?
– I don't have any best friends on tour but it would be Miomir Kecmanovic. We're pretty good friends and have played some doubles together. If I can go back to your previous question I'd say De Minaur. I think he's going to be at the top.
From one Australian to another.
Nick Kyrgios spoke out against Casper Ruud on Twitter after their match at the Rome Masters. A match where Kyrgios got disqualified (!) after a few too many offences and the Norwegian celebrated the victory wildly, which Kyrgios quickly pointed out on Twitter.
– I saw that he wrote a little about it. Okay, he got disqualified but if we look at the H2H between me and Kyrgios it's 1-0 to me. That means I've won against him?
– He can say as much as he wants about me getting disqualified but it still says 1-0 to me. I don't know, he was totally crazy when I played him. It was nice to win. If I celebrated after the match or not? I don't care. I was happy I got 90 points and 50 000 dollar in prize money so why wouldn't I celebrate? It's his problem that he's an idiot on court.
We end the interview, a long one which lasted around 40 minutes.
More media commitments were to come for Casper in the form of a press conference ahead of the Davis Cup rubber. Ten Norwegian journalists, a dozen photographers and two TV team. As well as 30-40 kids who all would get autographs and selfies with Scandinavia's best male tennis player.
The feeling is that Norway as a tennis nation has a hugely bright future ahead of them and that the Ruud effect, well, it has probably only just begun…
Fact box:
Name: Casper Ruud
Born: 22 december 1998, Oslo, Norge
Height: 183 centimeters
Prize money earned: $1,279,962
Sponsors: The Arctic Group, Isklar, Yonex, Autopay, Right 2 play, Porsche, Proaktiv, Dunderverk, Urmaker Bjerke
Training base: Rafa Nadal Academy, Manacor, Mallorca
Coach: Christian Ruud, Joachim Bjerke
Best result on the ATP Tour: Final ATP Houston 2019
Best Slam result: 3rd round, French Open 2019
Favourite surface: Clay
Bonus: Won the Seville Challenger at 17 year's of age