Mikael Ymer is the only Swedish player through to the second round of Australian Open after 6-4, 6-1, 6-2 against 93-ranked Japanese Yasutaka Uchiyama.
This was supposed to be an ordinary interview after a match at a Grand Slam. It turned into something else.
We managed to get a longer interview than is the norm during a Grand Slam tournament. Mikael reflects on where he is currently at in his career right now, including his coaching situation and how it is to be a target on the rankings, rather than reaching for a target.
Johanna Larsson and Rebecca Peterson were eliminated in the first round of the Australian Open.Thus Mikael Ymer is the last Swedish hope in singles.
"Mike" was never really threatened against Uchiyama. Sure, it was even at the score in the first set until 4-4, but Mikael was able to put in an extra gear, hold his serve to 5-4 and then make the most of the opportunity when the Japanese was serving to stay in the first set. He didn't. First set, Mikael Ymer.
Set 2 and 3 were just an eternal wait for an upcoming match point. Mikael had again broken down a player from the back of the court, his special, and if he would be working as a chef – his signature dish. Yasutaka Uchiyama was outplayed, both tactically and mentally. Mikael Ymer has the ability to do that against players.
First question: What did Mikael think was the biggest difference between the players?
– Okay, good question. I haven't had time to reflect on the match yet. Give me a few seconds …
Seconds turn into minutes. At least it feels like it. Mikael then breaks the silence.
– What was the difference if I may ask you?
Well, you put more balls in the court for starters…
– Yeah. Keep helping me out here and I will be getting started…
Mikael was just warming up. After the match this time.
– I think I was the more solid one throughout the match. I stayed calm and never let him in properly. He probably felt my pressure and yes, I was probably a little more offensive, faster and more solid out there on court.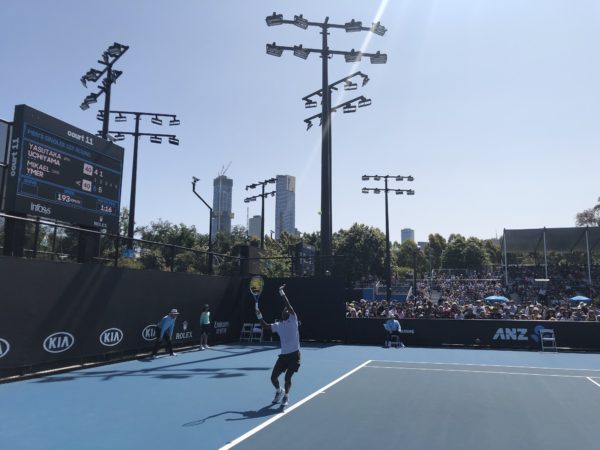 In 2019, you were only one spot away from entering the qualification for the Australian Open. One year later and we sit here, you getting in the main draw directly on your ranking and through to the second round. If you reflect on the journey you made for the past year, how has it been for you?
– It's good that you are mentioning this since I thought about it the other day. I remember sitting here at the players restaurant, this time of the year in 2019, eating pasta bolognese. I still had money left on my badge and thought about how well I started the year 2019 with the win in Noumea Challenger. Just recently, I actually sat in the exact same table in the restaurant and yes, a lot has happened in a short time. I will try to seize my chance here and I do not take this for granted.
In 2019, Mikael has mixed it up a lot. We are not talking about any tactical dispositions now.. What we are talking about? Mikael Ymers different hats on court.
Bandanas have been switched to a visor, and vice versa. The visor was back in the first round against Uchiyama.
– I mix it up depending on how it is. People probably think it is about on what court I play on but it's about the sun really. Playing a match late in the evening with no sun then yes, I will use my bandana. Having the sun in your eyes, well, it bothers me tremendously and I can't use an ordinary hat since those just falls off my head. My options are limited here…
Was it easier today than you would have thought before the match?
– Uchiyama started the match well and hold his service games quite easily in the beginning. My coach (Frederik Nielsen) told me: "It's ok, you are not doing anything wrong. He is doing well now ". I looked at his previous results before the match and saw some similarities with a couple of Challenger tournaments won and I knew it would be tough. However, I think I got to him and he probably knew that a comeback would be too tough to make. It lowered his level a bit I would think. At the same time, all respect to him as it was his first match of the year.
Do you prepare differently for best of five-matches sets compared to best of three?
– I would think so but it's a new situation for me too. At the French Open last year, everything was so new to me and my fitness coach was with me because I really didn't know what was required from me. He couldn't come to Australia unfortunately. I take things a little calmer now than usually, days before matches here almost transforms into vacation days, which is pretty chill for me.
How do you spend your time in the city (Melbourne) when you are not on the practice court our playing a match?
– I mean, you definitely have the time to go out and see the city and yes, I have all the time in the world but in my own head, I don't have time. I do my workouts, practices and after that, well, I go straight to my hotel room and watch a series on TV. I don't need to talk to anyone and can be in my own head for a while.
Karen Khachanov, ranked 17 in the world, awaits in the second round. Karen is now coached by Fredrik "Fidde" Rosengren who knows the Swedish strengths and weaknesses more than well. Rosengren used to work as the Davis Cup captain for Sweden and was the one in charge when Mikael 17 years of age made his debut for his nation.
– I haven't thought about it too much to be completely honest. We are thinking about ourselves a lot and that is something Frederik (Nielsen) tries to tell me all the time. Not focusing too much on what others are doing and we are trying to raise my level so it comes to a point where it shouldn't even matter. I'm not at that level where I can compete with the absolute best players in the game but that is his main philosophy, to focus on yourself primarily.
– I mean, if you do things the right way and do what you are doing best, you will become a nightmare for players on the other side of the net. I know what I need to do in order to have a good chance out there, then it is the mater of being able to do it on a big court in a match where it means so much. Trying to be offensive, use our patterns as we wish without falling back too much behind the baseline and playing on other's mistakes, that are a few things that we are working on.
Frederik Nielsen , alongside Kalle Norberg, were responsible coaches for Mikael Ymer in 2019. Daniel Berta, the former French Open junior-winner joined the team ahead of Stockholm Open last year, while Nielsen had disappeared for some reason.
– I stopped working with Nielsen during the US Open last year as he needed to fully invest in his doubles and I didn't have the same ranking I have today, I should add. I was expecting to play Challenger for a while, and maybe try to qualify into a ATP-event, but it would mean less work with Frederik. He said: "Mike, I have to focus fully on my doubles next year and play the ATP-schedule."
– Thoughts went in my head and it would not be manageable. I was in a position where I really liked Frederik. When things went well in Challengers and I had the rankings again, with an ATP-schedule to look forward too, I called Frederik.
How did things end up with Berta?
– I have no good answer as to why me and Daniel ended up that way, but I was more in a position where I needed to work with Frederik again.
What are your earliest memories of the Australian Open?
– It would probably be a really shitty memory to be honest. I played the first round of qualification in Traralgon many years ago. The thing was that they always had the junior competition there, a Grade-1 event, and the qualification for the Australian Open juniors was at the same facility just days after. I remember playing Berrettini in the qualies and the following year I was in the main draw. I had switched between about 1000 forehands I remember and when I finally came here to Melbourne Park, I didn't know which forehand to use! I lost to an unseeded player. It was so bad!
Have you had any memories of the Australian Open before that even?
– Well, my earliest memory was when Monfils played against Baghdatis if I remember it correctly and Monfils had just made it through on tour. He was hitting those jumping forehands when the courts were green!
You mentioned earlier that the focus is primarily on you ahead of your upcoming match against Khachanov. Is there though maybe a chance that you will speak to your brother Elias, who was practicing with Khachanov years ago for an extended period when being coached by Galo Blanco?
– Yes, 100 percent! We spoke right after the match he said: "Mike, you have Karen now". I never check the draws and I only hear about who I will face in the next round. I will talk to him, of course.
Do you feel at home at this level at the moment, ATP-events and Grand Slams?
– Not yet. I am actually nervous about the upcoming years if I'm being completely honest with you. Everyone playing here is at a such a high leve. Sure, at Challengers it is extremely tough but as you saw in Tampere last year, I could get away with things because I have a certain fitness, a certain defense and I am able to break players down with my game. Well, I can do it here as well but at the same time, players will punish you here in a completely different way. I can't win matches the same way nowadays and I'm a little bit nervous about that.
– The most interesting thing for this year will be if I can do what I need to do over and over again. I think too many people put too much focus on new rankings etc. For me, it is more about being able to stay in this position with the rankings next year and then, I would be really happy! A year and a half ago, I couldn't win matches at qualies in Challengers. Last year was good but there should be some respect in mind considering it will be a process for me and I can't go around thinking that I will be done if I am inside top-50 or top-70. Everyone is playing like warriors and you also have more players chasing you than before. I know what it was like when being ranked around 120, 130 in the rankings. Everyone wants to get inside. I have also become a target and my upcoming year will be a interesting one.
Does it have to do about believing in yourself even more?
– Sure, but also being able to do it. Learn. I still haven't played on the biggest stadiums. Is this the first time I'm playing a top-20 player now? Well, Fognini in Bastad…
Zverev, French Open and Raonic in Miami are the ones I can come up with right now…
– Yeah, I got pretty fed up when I played against them. We'll see! New year, new Mike!