4 hours and and 36 minutes. 6-2, 2-6, 6-4, 3-6 and 7-6 (10-8). Mikael Ymer's second round against 17-ranked Karen Khachanov, coached by "Fidde" Rosengren, has become a classic we will not forget.
What a match and what an effort by Mikael Ymer.
However, it was not enough.
– It hurts right now, a devastated Mikael sums up after the match.
It was so close. But still not.
6-5 in the fifth and decisive set and Mikael Ymer serving for the match and 8-6 in the following supertiebreak. Despite that, the Swede never got a sniff of a matchpoint and it was Khachanov who end up winning in the end.
But what a match – and what an effort by Mikael Ymer. The Swedish wall was able to get into the head of top-20 ranked Khachanov, his perhaps foremost signature as a tennis player which we have seen a lot from him on the Challenger Tour over the years.
4 hours and 36 minutes. Mikaels toughest loss in his career, yet something he can and hopefully will gain a lot of confidence from.
– It hurts a lot. I know I will be able to come back from this in a few days and I can appreciate how I performed out there. Overall, it was a good effort on my part. I am happy with most things, but the only thing that is tough to handle right now is how I performed after 6-5 in the fifth set. I managed to built it up so well and did the things on court I wanted to do.
– I'm not sure it was because of the finish line or because of the fact I was getting tired. My serve completely failed me at the end. It hurts as I said before and it might have looked different if I would be able to serve as I did in my previous matches. At least getting a point on my serve in every game.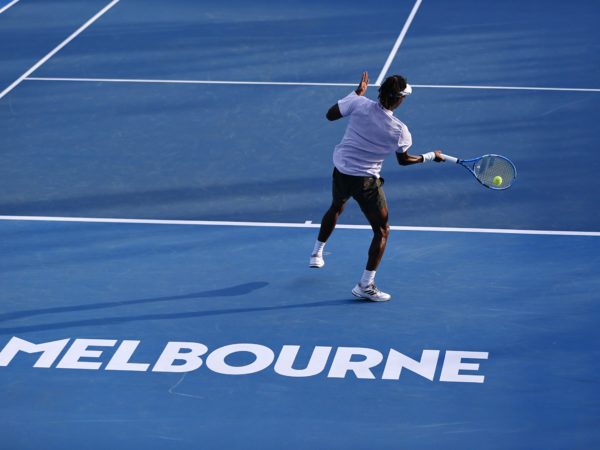 You said in the interview after the win against Uchiyama that you felt nervous about what was to come in 2020. You put a lot of pressure on Karen, a top-20 player in five sets and are only a few points from getting through to the third round of a Grand Slam. Does this give you confidence moving forwards?
– Absolutely, it does. As I said in the interview, now the question becomes whether I can find ways to do this over and over again. That's the secret, I think. Many players, well, not maybe many but players can do what I did in over 5 sets. I will face these players again in my next tournament in Montpellier and I hope to be able to perform like I did today. It hurts like hell right now, but I know that this will do good to me.
How was your gameplan sound today and did it change slightly during the match?
– We do not prepare for matches with an ultimate gameplay because my game locks too much then. I try to focus on what I do out there on court and I'm satisfied with my efforts today. It would perhaps been better to lose 6-3 in the decisive set and not have this but at the same time, it's part of the sport. I gave myself the chance to come back. I have the performance registered in my brain and yes, I may have become a little bit passive at 8-6 in the supertiebreak. I could have been a little bit more offensive instead of waiting for his mistakes. Hopefully I will learn from this and do better in the future. You always get new opportunities in tennis.

How did the body feel the longer the match progressed?
– It was my longest match in my career and it felt really heavy to move in the supertiebreak to be honest. I am young and I will get better and better, I will be able to serve better and get more free points. I will also learn how to be more offensive on court but right now, I feel like a 90-year-old.
Did you feel any nerves in the crucial supertiebreak?
–Sure, it was a bit annoying, but I thought I was doing okay. I was down to 0-2 right away and the thoughts started spinning in my head. "You had 6-5 ten seconds ago, now it is 0-2, the serve doesn't work, and he his bombs right now". I had to stop looking at the score and just focus on the tennis again and I'm surprised that I put myself in a good position to win at the end. The only difficult thing right now is how I performed from 6-5 in the fifth set, it's just playing on repeat in my head. Everything else, well, I'm really happy with.
Upcoming schedule for Mikael Ymer: Montpellier, Rotterdam, Marseille, Davis Cup, Indian Wells, Miami.